My thoughts while watching the never to be Wonder Woman series pilot.
November 29, 2011, 10:15 pm
Filed under:
Nerd Alert
,
Regular
| Tags:
2011 Pilot
,
Amazons
,
Dudemar in Distress
,
I just ate a cookie
,
Nerd Alert
,
RAGE
,
Sociopath
,
who reads this junk?
,
Wonder Woman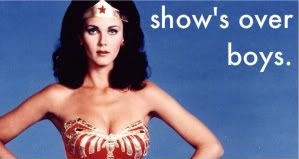 I like Wonder Woman. So all you haters can take a short walk off where the sidewalk ends because baby there is no debating for me, Wonder Woman is awesome.
Wonder Woman is awesome but she is a character hard to write for. And I'm never quite sure why.
Lets break her down…
(Let it be known, I did not major in Wonder Woman History in College.)
Reasons why Wonder Woman is an awesome character:
- She is a fucking AMAZON. Have you read about those ladies? Let me break it down for you, hardcore female warriors. The only thing these ladies wanted to do was fight and drink. Not the kind of ladies that want to listen to Lisa Loeb and braid flowers into each others hair. You know what Amazons do? Listen to hardcore music and punch each other in the face and laugh their asses off about it. These ladies use to cut off one of their boobs to be better at archery, you don't get more hardcore warrior than that. That's like cutting off one of your fingers and jabbing a knitting needle into so you are better at knitting.
And boy were they manizers (the opposite of womanizers)! Quote from Greeka.com:
"However, to carry on their race, they would very often mate with men from nearby societies or with handsome prisoners of war. Once their purpose was fulfilled, the prisoners would be used as slaves or killed. A male offspring suffered a fate akin to his father. If a boy was born, their mothers would kill him or sent him away. Sometimes he was kept alive to grow up and be used for sexual pleasure or as a provider of human seed."
While I do not condone slavery in anyway, that is pretty nuts.
- Wonder Woman is in the top three. You can't have the Justice League without Wonder Woman. (even though technically she started out as their Secretary…*cough* We'll just ignore that *cough*)
- She fought Nazis. That lady was like, hey Amazons there is this whole thing going on called WW II and this guy Hitler is super lame. I'm gonna go punch some Nazis in the nuts and teach them about Love.
- She was created by a dude who fully believed that women were better than men. That's putting it into simple terms but shit, that's cool. (I bet Eve would even high five over that.)
- Wonder Woman was always saving Steve Trevor's butt. I recently purchased the Wonder Woman series from 1975. And seriously, every episode was about saving Steve's butt because he landed behind enemy lines or was kidnapped or something. Can anyone say Dudemar in Distress? (For more information on what Dudemar means, visit here: http://www.urbandictionary.com/define.php?term=Dudemar. THE MORE YOU KNOW!)
Possible Reasons Why It Is Hard To Write Wonder Woman:
- Wonder Woman, like Thor, is based on mythology. And sometimes it is a hard genre to sell. Comic Book readers don't always want to read about ancient Gods getting punched in t he face and these type of characters are hard to transition into the "Real World". Because it would look pretty fishy if some flying snake God was crashing into the Sears (sorry, Willis) Tower every week. And making these character more urbanized or "real world" is also hard to do because how do you not make them seem super lame?
- She's a woman. And a there are quite a lot of male writers in comic books, some who are not very good at writing for a female or writing in a female's voice.
- This goes along with the first one but she started out by fighting Nazis. Captain America is still fighting Nazis a good amount of the time but Wonder Woman doesn't have anymore to fight. So how do you transition a mythology-based character who fought in WWII to now?
- Fans freak out whenever you try and change a classic character, like Wonder Woman. They gave the lady pants for goodness sake and everyone was up in arms calling her a stripper and saying she looked like she was sixteen (but somehow spanx make her look like a woman?) We had customers coming into the shop who had never read a comic in their life just coming in to complain to us about how they watched the Wonder Woman TV show when they were young and cannot believe they would change this character's iconic look.
All of these things are easily fixed and every nerd knows they can write an awesome story for their favorite character but I am just offering up possible reasons why.
So without further to do here is my written reaction Wonder Woman 2011 Series Pilot….(Its a doozy folks, I should have just recorded myself….)
******
The first scene opens up to a young man running home with a letter and he is super excited! His family begs him to open the letter. He finds out that he was accepted to his choice University and during the hug parade he begins to start crying blood. Which isn't really cool, you think it would be, but it wasn't. (I conclude there should have been more blood).
Then the scene shifts to a bald bad guy running down the star strip with Wonder Woman on his trail.
Okay so Wonder Woman's outfit isn't terrible. I actually prefer the denim blue pants they gave her over the black ones she had in the comics for a short amount of time. Except they should have ditched the shiny lame bustier they chose. It hardly matches the matte denim pants–god damn it, now I sound like a girl. Oh wait—
– Oh my god, did she just rope that guy around his neck? Well he is a bad guy but she could have easily snapped his neck. Oh and she just injected him with some strange green liquid junk, oh the mysteries! (This green liquid is never explained, she mentions a blood sample later on but no blood is ever taken in this scene….so……moving on….)
Oh and Wonder Woman is fighting with the police verbally saying if she gives up the "perp" he'll lawyer up. First of all, kind of rude, second of all–why would you chase him out into public then? You kind of seem very stupid so far. Then she just slides his body over the police, by his head (again, with her strength she could easily snap his neck, where are the physics here?)
So far, Wonder Woman seems reckless, childish, but can still control her strength. These either show that she is a passionate person who will not stand for injustice or…a brat? Her walking away form a crime seen with an angry pout leads me to believe the second of the choices.
As the show continues we hear a debate about how Wonder Woman is unlawful. How she enters places without warrant and taps buildings? Even Dr. Phil argues that she has anger issues, while another debater says that she is smart and uses the costume to get the public to like her, as a marketing tool. Okay so they are going for a more modern Wonder Woman a mix between Superman and Batman but nix the ability to fly. She's got money and strength. And two executive babysitters for her and her company.
And then they bring in her soft side, Diana Prince instead of Diana Themyscara. Her wish to have a slice of real life, with real friends and real experiences. And her two executives are more like parents than people running a company. I suppose this is to prove how young she is which would account for the recklessness.
So Diana Prince heads home to her modestly sized apartment to her cat Sylvester and she decides to build her Facebook page. Then she sees the notebook on TV and like anyone with a vagina she immediately reminisces of her first love. Which is cool because its our man Steve Trevor and Diana is breaking up with him to move to LA to be a superhero. Okay…well that doesn't make sense. Why LA? Is that some big secret? Some way to make the budget cheaper? Because all the teenage girls are into LA right now? Is this some secret that will be revealed later?
Her answer: "She can do good in this world."
Then it shoots to her next day in the office where dresses like she's almost forty and is even given sort of mom hair. I did like how she was much taller than everyone else.  She is confronted by the mother of the young man who had a reaction to the illegal drugs in the first scene. Diana takes her to her office and attempts to be warm and comforting. She does this by sitting behind her desk with her legs folded and attempting sympathy in her tone as the woman talks about her son now being conscious. I'm starting to believe more and more that this Wonder Woman might be a sociopath…or just bad acting…
TO read more about Sociopaths go here: http://www.mcafee.cc/Bin/sb.html
Okay so the Mother says that she wishes Wonder Woman had killed the bald bay guy who was running. Wonder Woman is stone faced to this and the mother admits it is a cold thing to say. We need to remember this scene, this will mark Wonder Woman's code as a superhero: does she kill or not? Diana says, "Go home, go take care of your others kid and leave the vengeance to me. I'm kind of good at it." Okay so that doesn't really state if she kills or not.  She also says the last sentence with a weird coy smile…which keeps making me look at the list of signs that someone is a sociopath.
So Diana decides to announce who the ultimate baddy is, the lady at the top of the drug food chain. She explains how all of the dead victims are, "From Ghettos by the way." Which is a very weird way to put it. Like hey Wonder Woman, you got a multi-million (or more likely billion dollar company) and you can't get a speech writer? And she addresess the camera, speaking to the enemy who is sulking in her lavish dark office (my god, why don't you just give the bad guy a fluffy cat to pet, this is getting cliche enough) and says, "Trust me, if the law doesn't get you, I will."
Alright, I got super bored at this point so I watched a few episodes of Adventure Time and then went back to this.
Back to the show, here is a quick summary because I got sick of trying to narrate what was happening…
- Diana gets mad because her action figures boobs are too big. She throws a tantrum. Her daddy exec-babysitter tells her the doll sells better with big boobs so she relents.
- She tortures a guy in the hospital for information. TORTURES A GUY. Why would she torture someone when she has a lasso that makes people tell the truth? She even says the lasso does that. Unless it was some weird sarcastic joke she was making.
- She is investigated by the government and its turn out it is Steve who is investigating her. Because they banged once or a lot, he lets her go and frees her of all charges. He is also getting married, cue drama bomb. That'll send wonder back into the arms of her couch to sob over The Notebook again.
- She talks to some stupid government official who is southern and in cahoots with  the evil lady.
- Diana is not good at being patient for a warrant. Turns out kid from first scene died in the hospital and now she is super pissed.
- Wonder Woman goes after big baddy lady. She kicks in the door of this warehouse and just starts killing everyone. KILLING EVERYONE. Even the security guard who was just doing his job, he wasn't even one of the big roid-raging bad guys. He was just doing his 9 to 5 job, shooting at her because she just killed all those dudes and she tossed a pipe through his throat like its a fucking ninja star.
I paused here.
What the fuck. She's just like killing all these dudes. And granted, they are trying to kill her…but what the hell yo? She tortures some dude in a hospital and now she is killing everyone.
I guess this is an attempt to make her "more bad ass",  they even had the cliche "bad ass" music playing in the background while she does this. However. Batman doesn't kill and he's still super bad ass. Was this their attempt to set her apart from Superman and Batman? Or did they want to tap into her more Amazonian ancestry they have not brought up at any single point in this show?
And then when the big baddy lady points out how she has killed a whole bunch of guys and has it on tape she says, "You're about to meet your equal, the American Justice system." And Wonder Woman just smirks and choke holds the lady.
I think there is a happy ending but I don't really continue to watch. I kind of just go sit in a dark corner, drink straight from a bottle Jameson mumbling nonsense and holding myself.
My conclusion: Wow, I didn't know it was so hard to write a bad ass female lead character without having her be a sociopath. That line is apparently so freaking thin, amiright?
******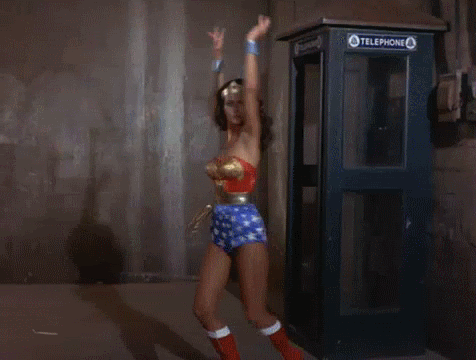 So there you have it. My thoughts while watching that terrible pilot. In good news, I'm highly enjoying the new Wonder Woman series written by Brian Azzarello. You should read it, Wonder Woman is a bad ass in it. Pick it up at your local Challengers Comics or I guess any other shop is cool too (but Challengers is better).